If you're heading to Metairie, it would be a mistake not to consider grabbing a meal at one of the many excellent restaurants on and around Metairie Road. No suburban wasteland of national chain outposts, this street boasts a diverse array of dining and drinking options that easily rival many stretches of New Orleans itself. Here are just a few of them...
Bear's Poboys at Gennaro's
3206 Metairie Rd., (504) 833-9226
bearspoboys.com/gennaros-location-menu
Never quarrel with a restaurant that sells meat by the gallon. This neighborhood sandwich shop is best known for its roast beef swimming in gravy, which is available in generous portions on a French loaf or bun and also sold by the gallon (it really is a liquidy affair) to heat up at home for special events. The cozy establishment also sells other types of po-boys-including fried shrimp and fried oyster-plus burgers. Its onion ringers are also excellent (and enormous).
Taj Mahal Indian Cuisine
923 Metairie Rd., (504) 836-6859
tajnola.com
Taj Mahal claims to be New Orleans's oldest Indian restaurant, founded in 1982 and moving to its present location 10 years later. It offers a full menu of Indian specialties, including plenty of vegetarian options and classics, such as chicken tikka masala and plenty of varieties of biryani. Stop by during lunch for an all-you-can-eat buffet and consider washing your meal down with a mango lassi.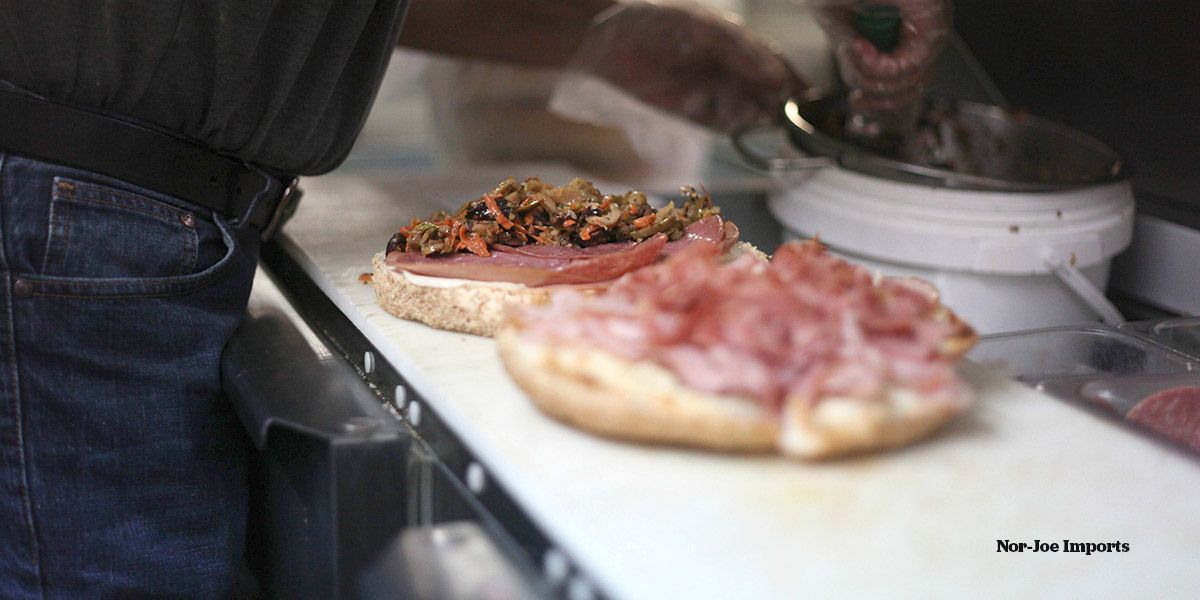 Nor-Joe Imports
505 Frisco Ave., (504) 833-9240
facebook.com/norjoeimport
Nor-Joe is located just a block from Metairie Road, but even many longtime residents don't know about this Italian grocery shop and deli. Stop by to pick up Italian staples like wine and olive oil or just to grab a meatball sandwich or muffuletta to eat on the shop's patio. Refrigerated items to cook at home, such as eggplant parmesan, are also available in a variety of portions. Make sure to sample the olive oils, including a spicy muffuletta oil, and visit the pastry case for both traditional and not-so-traditional offerings, including Cajun cannolis made with pralines and Creole cream cheese.
Blue Line Sandwich Co.
2023 Metairie Rd., (504) 309.3773
bluelinesandwichco.com
Named for the streetcar that once ran along Metairie Road, this cozy sandwich shop offers its own take on a mix of salads and sandwiches, including a Cuban sandwich, a Caesar salad made with local kale, and a classic Crab Louie salad. Breakfast is also served all day, including waffles, pancakes, and a corned beef and chili hash. If you're stopping by for St. Patrick's Day, you might want to consider ordering the St. Patty's Day Massacre sandwich, which includes corned beef, cabbage, and duck pastrami.
Puccino's Coffee
3000 Metairie Rd., (504) 304-0210
lovepuccinos.com
One outpost of a quirky local chain, Puccino's offers a wide assortment of very reasonably priced espresso drinks and other coffee options, along with friendly service and utterly campy decor. There's also a good assortment of pastries and breakfast and lunch sandwiches. If you're not a coffee drinker, you can also grab an Italian soda or even a glass of wine. Gamblers can follow the "casino" signs to another unusual coffee shop offering: a festive room devoted to video poker.
Byblos Mediterranean Grill
1501 Metairie Rd., (504) 834-9773
byblosrestaurants.com
Stop by Byblos for an excellent assortment of Mediterranean staples, including shawarma platters and wraps, beef kafta, and delicious pita paired with hummus or baba ghanuj. Enjoy baklava and a cup of coffee for dessert or try one of Byblos's wines, available for half-off on Wednesdays.
Pink Street Pub
201 Aris Ave., (504) 324-4894
facebook.com/pages/category/Pub/Pink-St-Pub-71020964392
A hidden gem down a mostly residential side street, Pink Street Pub is a quintessential New Orleans neighborhood bar and a great place to stop before, after, or during a parade. A Cheers-like community hangs out regularly and enjoys the dirt-cheap booze, but outsiders and visitors are quickly welcomed into the family. Save some cash for the jukebox.