First, you can stop by Houmas House, which is a restored sugarcane plantation found between Baton Rouge and New Orleans. Patrons can visit the house to learn about the history and architecture while also dining at one of the five restaurants. The Houmas House Salad is offered at more than one of the restaurants and is made up of mixed greens, blue cheese, roasted pecans, cranberries, and garnished with julienned pears. 40136 LA-942, Darrow, 225-473-9380, houmashouse.com.
Out in Metairie, you check out Nephew's for some great Italian food and a variety of specialty salads. The Crabmeat Salad, Meatball Salad, and Italian Salad are just some of the salads available for purchase. The unique and delicious Meatball Salad continues to be a customer favorite. 4445 W. Metairie Ave., Metairie, 504-533-9998, nephewsristorante.com.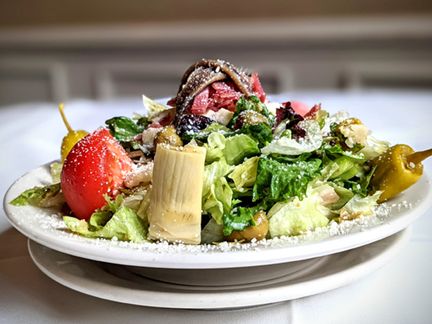 With two locations in the Metairie area, Caffe Caffe is a great place to grab a nice salad this summer. Their menu includes a whole page dedicated to salads, including an Avocado Salad, Greek Salad, and the classic Cesar Salad. Pair a salad with one of their delicious sandwiches or a cup of their Soup of the Day. Multiple Locations, caffecaffe.com.
Known for their famous BBQ shrimp and raw oysters, Pascal's Manale offers some delicious seafood as well as salads. The popular Insalata Manale is an olive salad with fresh greens and mozzarella cheese. The salads are also an affordable option, all being $10 and under. 1838 Napoleon Ave., 504-895-4877, pascalsmanale.com.
Boulevard serves patrons in Metairie and Elmwood, always ensuring that they have a pleasant dining experience. The popular Gulf Shrimp Remoulade Salad is the perfect summer salad that is topped with a New Orleans-style remoulade. You can order this salad, as well as pick from an assortment of other salads, at both locations. Multiple Locations, boulevardbistro.com.
Established in 1938, Mother's has been providing New Orleanians with some of the best po-boys and seafood for years. The Fried Oyster Salad incorporates its delicious seafood with fresh vegetables, making this a great option for a summer salad. The salad includes iceberg lettuce, fresh spinach, cucumber, red onion, and bell pepper topped with some of the crispiest fried oysters. 401 Poydras St., 504-523-9656, mothersrestaurant.net.