Starting today, September 4, and running until this Sunday, September 6, the stylish Uptown bar & restaurant Cavan is working jointly with SBP's Hurricane Laura relief effort through a special cocktail promotion. Specifically, for every purchase of certain cocktails on Cavan's menu, two dollars will be donated directly to SBP's teams, which are hard at work in communities still suffering in the aftermath of Hurricane Laura. Cavan is also allowing customers to be seated in the venue for dining and drinking, so long as proper precautions, including the wearing of facemasks, are taken. The cocktails qualifying for the donation are listed on the menu shown in the photo.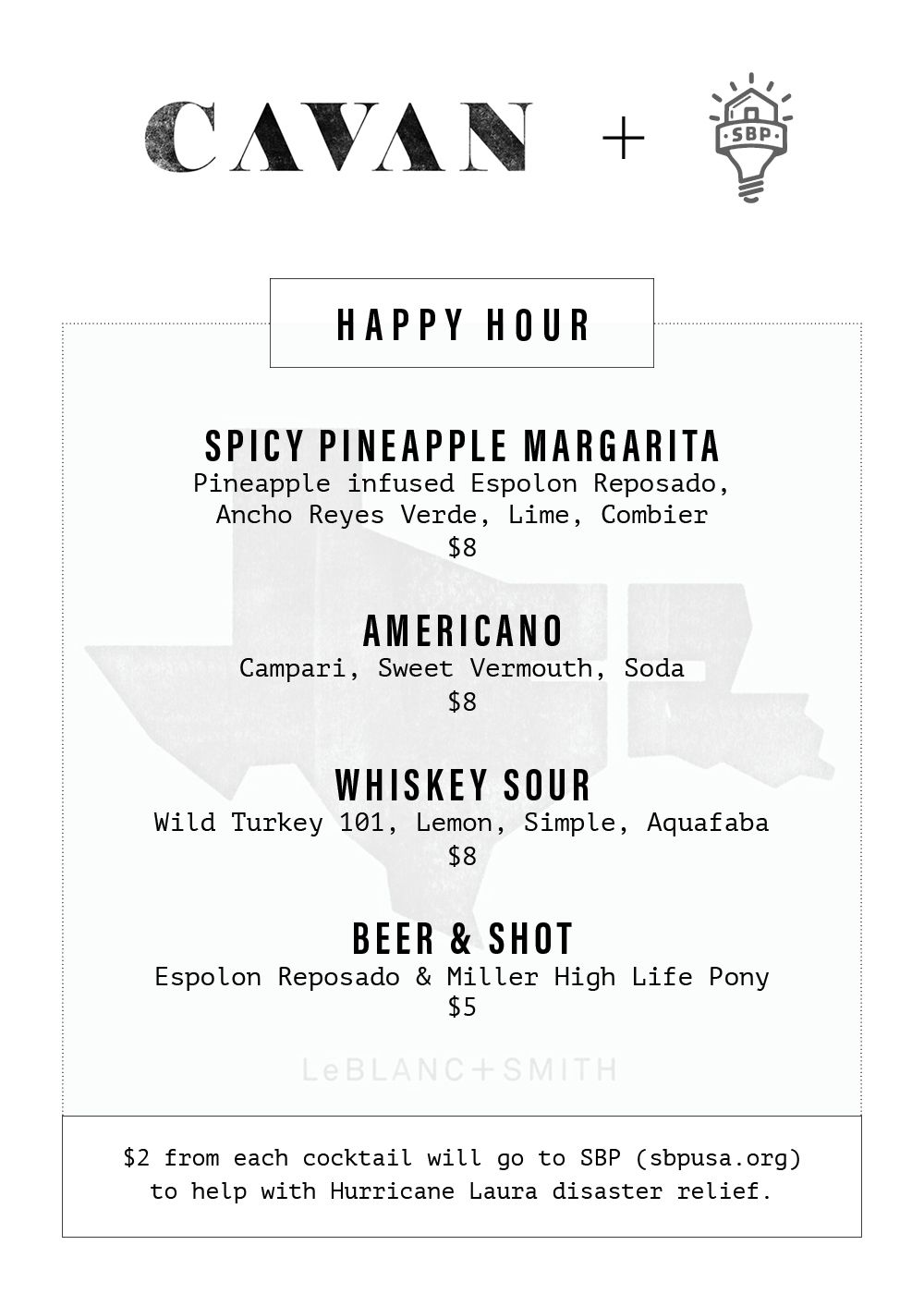 This is part of a larger ongoing effort from New Orleans's many chefs and restaurants, to deliver aid to those in dire need as a result of Laura's devastation. No longtime resident or business-owner in New Orleans will ever forget the cataclysmic harm and suffering Katrina brought about 15 years ago, almost to the day, before Laura, and this seems to have struck a powerful nerve with many residents. Seeing as New Orleans itself was largely spared from Laura, there has been an outpouring of locally sourced aid and homegrown efforts to help those who were not so fortunate as to avoid the storm.
SBP specifically is known for being a contemporary giant in not just Louisiana's disaster recovery, but the entire nation's as well. Seeing as SBP has its provenance in Katrina relief, it is quite fitting that it is one of the leaders in mending the wounds caused by Laura 15 years later.
So, if you happen to be a Cavan regular or notice that you've a bit of a dry throat this weekend, make it a point to order one of the highlighted refreshments. Your money will be donated to an extremely reputable nonprofit organization that will not only save lives, but also help those same lives find structure and support after this disaster struck.
Cavan: 3607 Magazine St.,

(504) 509-7655

, cavannola.com


For more information on SBP's efforts, please visit sbpusa.org.